Over the past 85+ years Andress Boat Works has provided water taxi services to islanders, vacationers, local utilities and services, cubs and scouts and countless others and we proudly continue this tradition today.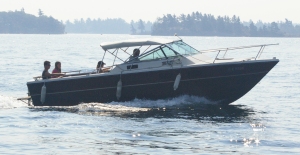 The water taxi delivers many campers to the nearby park islands such as Grenadier, Constance and Georgina. Pack your camping gear and plan a get away on one of the nearby Park Islands or just pack a picnic, swimwear and good walking shoes and go exploring for the day on one of these island gems, hidden amidst the 1000 Islands.
Our taxi is a 23 ft Thundercraft that comfortably accommodates 6-8 people with luggage and is fully approved and equipped.
Reservations are available and help avoid delays but we will always try to accommodate any walk-in or impromptu requests.
These services are available 7 days a week from May 1st through to Oct 31st from 8:00 a.m until 6:00 p.m.