Over the past 85+ years Andress Boat Works has provided water taxi services to islanders, vacationers, local utilities and services, cub scouts and countless others, a tradition we proudly still practice to this day.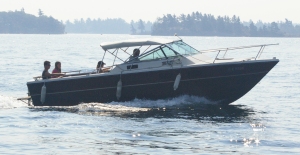 The water taxi services have been limited due to Covid-19. All passengers must be from the same household. The taxi driver will not handle any luggage, but will assist in directing patrons on where to place it. If camping, please call for details and reservations.
Our taxi is a 23 ft Thundercraft that comfortably accommodates 6 people with luggage and is fully approved and equipped. (Capacity is limited due to Covid-19 as well)
Reservations are advised and help avoid delays, but we will always try to accommodate any walk-in or impromptu requests.
These services are available 7 days a week from May 1st through to Oct 15th from 8:00 a.m until 6:00 p.m.