Welcome to a delayed 2021 season – due to the Pandemic.
For modified services & hours call 613-659-3471 or check our Facebook page.
Boats are being launched at the docks; recreational services are slated to resume May 20th.
Curbside & Take-out services will be available May 1st.
Life is anything but "business as usual" at Andress Boat Works in Spring of 2021, but we are still here and we want to be ready to service all our customers in a modified manner that keeps all staff and customers safe.
Our stores will start out with curb side sales and our ice-cream will be takeout only with managed safe distance line-up markings. One customer inside for take-out at a time.
Marina services will be dependent on government directives; we are preparing for the current lock down to finish by the end of May, following the industry guidelines. Boating Ontario has worked with marinas and the government of Ontario to establish good practices for marinas, which we are following. Keeping a safe distance (6ft) from fellow boaters and marina employees is essential, as is wearing a mask on the public gas dock. You will see new signs for refueling and loading boats. It will be critical that we all ensure our marina is a safe space for all to visit.
We are proud of our history and reputation for being welcoming and helpful, but new protocols require us to not greet people with hugs and handshakes. There will be changes in the way we interact. When making payments at the gas dock, we ask that all of our patrons use the side "take-out" window; please do not enter the gas attendant area. We will post new procedures on location and ask that everyone please check the signs and follow the designed protocols. Let's keep everyone safe!
Our RiverRock Suite is not available until further notice.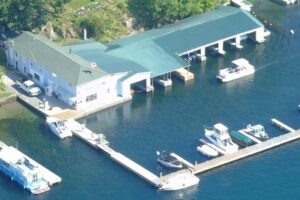 Overnight docking will be available with and without hydro
Our public washrooms will be available to customers only.
Our garbage dumpster will be still be available, though we ask that each person must handle their own garbage bags. Staff will not drop off garbage for customers. Recycling is on hold at this time.
These are different times and call for all of us to work with the distancing and safety precautions so we can continue to enjoy boating, the river, and remain safe and healthy.
Changes will be frequent and communications will be via Facebook, this website and signage on location.
Stay Safe Everyone