Welcome to Andress Boat Works 2022 Season!
As most people know 2021 was a very special year for Andress Boat Works. W.E. Andress was started in 1921 with the purchase of the current location. When son Elmer joined the business that Grandpa (Ed) started, and it was known as W. E. Andress & Son. In April 1981 Art and Wendy Merkley, granddaughter of Ed, purchased W. E. Andress & Son and renamed it to the current Andress Boat Works.
We would like to thank all of our patrons, new and returning, for your continued support throughout the past years. We know that the COVID-19 pandemic really placed a damper on our services, as well as 100 year anniversary celebration. Last summer we were unable to hold our anniversary party as we wanted to make sure all of our friends, near and across the border, could come celebrate with us. We are working hard this year to make that happen, with fingers crossed that restrictions will stay away and the borders will maintain open.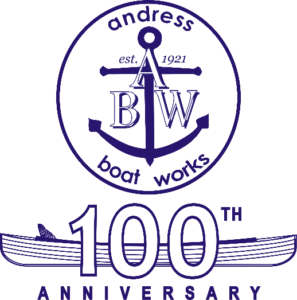 In 2021, we designed an anniversary logo, featuring the St. Lawrence Skiff and t-shirts with the Elva and this new logo, which are available in our store. Stop by and check them out. Stay tuned for this event to happen in the coming months.
Our RiverRock Suite is not available until further notice.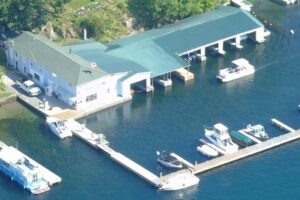 Home baking will resume on the May long weekend, Friday the 20th, 2022.
Overnight docking will be available with and without hydro.
Our public washrooms will be available to customers only.
Our garbage dumpster will be still be available, though we ask that each person must handle their own garbage bags. Staff will continue to not drop off garbage for customers to maintain safety measures.
Any and all changes will be frequent and communications will be via Facebook, this website and signage on location.
Stay safe everyone and we look forward to seeing you all during the summer and fall months!