As most people know 2021 is a very special year for Andress Boat Works. W.E. Andress was started in 1921 with the purchase of the current location. When son Elmer joined the business that Grandpa (Ed) started, and it was known as W. E. Andress & Son. In April 1981 Art and Wendy Merkley, granddaughter of Ed, purchased W. E. Andress & Son and renamed it to the current Andress Boat Works.
This year we wanted to celebrate our 100th year of this family business and our personal 40th anniversary. We were waiting for our American friends to be able to be involved, as there are many families on the islands that have been involved with this business for many decades. That became a reality on Aug. 9th. As we started to plan it became more and more challenging due to COVID-19 restrictions. The most significant is an outside gathering must not exceed 100 people.
We really don't want to have to limit who gets to participate. With this as the constraint, we have decided to delay celebrating to the summer of 2022. Our hope is that restrictions will be gone, and people will be able to enjoy the celebration and each other more freely.
This is not ideal, but it seems the most sensible option at this time.
We designed an anniversary logo, featuring the St. Lawrence Skiff and t-shirts with the Elva and this new logo, which are available in our store. Stop by and check them out. Stay tuned for this event to happen in summer 2022.
Thank you for your continued support of Andress Boat Works.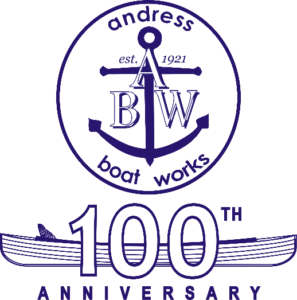 Life is anything but "business as usual" at Andress Boat Works in 2021, but we are still here and we want to be ready to service all our customers in a modified manner that keeps all staff and customers safe.
Marina services are dependent on government directives. Boating Ontario has worked with marinas and the government of Ontario to establish good practices for marinas, which we are following. Keeping a safe distance (6ft) from fellow boaters and marina employees is essential, as is wearing a mask on the public gas dock. You will see new signs for refueling and loading boats. It will be critical that we all ensure our marina is a safe space for all to visit.
We are proud of our history and reputation for being welcoming and helpful, but new protocols require us to not greet people with hugs and handshakes. There will be changes in the way we interact. When making payments at the gas dock, we ask that all of our patrons use the side "take-out" window; please do not enter the gas attendant area. We will post new procedures on location and ask that everyone please check the signs and follow the designed protocols. Let's keep everyone safe!
Our RiverRock Suite is not available until further notice.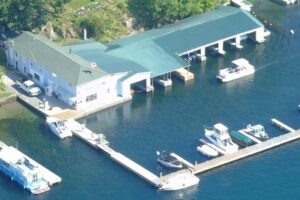 Overnight docking will be available with and without hydro
Our public washrooms will be available to customers only.
Our garbage dumpster will be still be available, though we ask that each person must handle their own garbage bags. Staff will not drop off garbage for customers. Recycling is on hold at this time.
These are different times and call for all of us to work with the distancing and safety precautions so we can continue to enjoy boating, the river, and remain safe and healthy.
Changes will be frequent and communications will be via Facebook, this website and signage on location.
Stay Safe Everyone